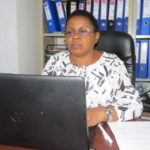 Mrs. Thérèse NZALE KOVE is a Congolese woman from the Democratic Republic of Congo. She is married and mother of 3 children. She is a grandmother of 2 small children.
A long time activist, she is engaged in promoting and defence of human rights, more specifically the rights of women / girls and children. She has worked with different associations: the "Association des Mamans Anti-Bwaki", AMAB, in acronym; the "Solidarité Féminine pour Paix et le Développement Intégral", SOFEPADI, in acronym; the "Forum des Mamans de l'Ituri" (FOMI) since 1998 to this day, where she is co-founder and a member .
Mrs. Thérèse has advocated and obtained the installation of the NGO "Initiative Congolaise pour la Gestion Autonome des Populations" (ICG) in Bunia. She assumed the responsibility of the Head of the Ituri Antenna (2003-2004).
In collaboration with other "displaced" women from the East living in Kinshasa, continuing her activism for the cause of women and girls, she helped to put in place the fund for Congolese women(FFC) in 2007.